Hall of Fame
2023

Christine Zeitz of Northrop Grumman Australia and New Zealand
Christine Zeitz is a leader in Australia's defence industry, with over 30 years' experience delivering world-class solutions and services across the Asia Pacific region to Defence.
As Chief Executive and General Manager of Australia and New Zealand, Christine is responsible for all aspects of NGA's growth, program awards and financial performance. Prior to joining Northrop Grumman Australia, Christine served as CEO of Leidos Australia for five years, responsible for strategic growth of the company in Australia and across the Asia Pacific region.
During her tenure, Christine delivered a 100 per cent growth in revenue through an ambitious restructure of the Australian business.
2022
Wendy Malcolm
Born and raised in Victoria, Wendy Malcolm joined the Royal Australian Navy in 1987, graduating as a Midshipman from the Australian Defence Force Academy in 1989 having completed a Bachelor of Science majoring in Physics.
She trained as a Supply Officer (Maritime Logistics Officer) at HMAS Cerberus in 1990 and saw service ashore and at sea. During the period 1995-1998 Wendy was involved with setting up the in-service support for the Anzac Class frigates through the Anzac Class Logistics Office within Naval Support Command. Lieutenant Commander Malcolm served as the supply officer in the guided missile frigate HMAS Newcastle during 1998-2000 including operational service in East Timor as part of Operation WARDEN.
She was posted to the Directorate of Naval Officers Postings from February 2000 to December 2001 and during this period completed a Masters in Commercial Law. A challenging and rewarding posting in the then-Defence Materiel Organisation followed as the Project Manager for the Evolved Sea Sparrow Missile Project during the period of this weapons introduction into service.
Wendy was promoted Captain in 2010 and appointed as the Director Anzac Systems Program Office. In this capacity, she was responsible for maintenance, logistics support and in-service engineering for the RAN's eight Anzac Class frigates and their shore support facilities in Fleet Base East (Sydney) and Fleet Base West (Rockingham). Wendy was awarded a Conspicuous Service Medal (CSM) in the 2015 Australia Day Honours List "for meritorious devotion to duty as the Anzac System Program Office Director".
She left the Navy in 2015 to take up a position with Saab Australia as the transition manager for the new support enterprise for the Anzac Class ships, before returning to Navy in late 2017. Wendy was promoted Commodore on 23 October 2017 and appointed as Director General Specialist Ships with responsibility for sustainment of Armidale Class patrol boats, Pacific patrol boats, hydrographic vessels, mine-hunters and mine warfare and diving systems.
Promoted Rear Admiral on 7 December 2018 she assumed the role of head Maritime Systems within the Capability Acquisition and Sustainment Group (CASG).
Rear Admiral Malcolm was appointed as a Member of the Order of Australia (AM) in the 2022 Queens Birthday Honours list 'For exceptional service in surface ship sustainment for the Australian Defence Force.'
2021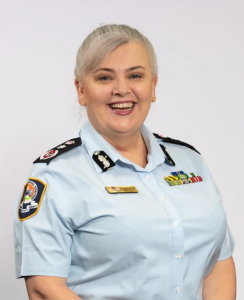 Georgeina Whelan
Georgeina Whelan graduated from Officer Training in June 1988. She has extensive experience in the command and management of Defence health systems, and military and civilian disaster and emergency response. As a Brigadier, Whelan deployed to East Timor in 1999 and to Banda Aceh, Indonesia on Operation Sumatra Assist in command of the ANZAC Field Hospital in 2005. She has completed several leadership, management, and tertiary programs over the past two decades.
Georgeina joined the ACT Emergency Services Agency as the Chief Officer of the State Emergency Service in late October 2017. She was subsequently appointed as the Commissioner of the ACT Emergency Services Agency in September 2019. She was appointed as the ACT Emergency Controller and led the ACT response to the 2019 Black Summer Fires. She remains engaged with Defence through Reserve Services as a project officer within the Directorate of Army Health.
Georgeina was awarded a Conspicuous Service Cross (CSC) in 2004 and was made a Member of the Order of Australia (AM) in 2006 and awarded a Bar to her Conspicuous Service Cross in 2016.
She was named ACT Telstra Businesswoman of the year in 2015 and awarded the ACT Public Service Award for Leadership in 2019.
Georgeina is the patron of the ACT Down Syndrome Association and sits on several research and advisory boards that focus on the provision of health and wellness programs to both ADF and Australian Emergency Service First Responders. She is also a member of the Australasian Fire and Emergency Services Male Champions of Change Coalition.
2020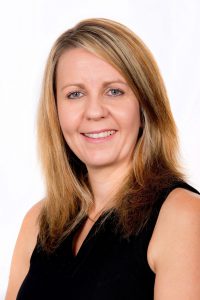 Dr. Karen Stanton
Karen Stanton is an owner and director at HTA Group, a manufacturing company with facilities throughout Australia and in Los Angeles, USA. HTA is the largest supplier of heat treat services in Australia and is an integral part of Australian defense and aerospace supply chains. As part of the HTA Team for more than 25 years, Karen has extensive experience in the manufacturing sector within Australia.
Karen is also an advocate for continual learning. With several undergraduate and postgraduate degrees in business and technology, including a business doctorate with the research focused on customer expectations.
Karen passionately advocates for SMEs in manufacturing and has demonstrated dedication to the development of the Australian defence industry at both state and national levels.
Karen is a member of the Centre for Defence Industry Capability (CDIC) Advisory Board based in Adelaide, the Queensland Government Advisory Council on Defence Industry, and also a number of private company boards in the defence arena.
2019

Elizabeth (Liz) Cosson
Secretary, Department of Veterans' Affairs (DVA)
After 31 years of distinguished military service in the Australian Army, Liz Cosson joined the Australian Public Service in 2010 and was appointed as Secretary of the Department of Veterans' Affairs (DVA) in May 2018. Liz is also the President of the Repatriation Commission and Chair of the Military Rehabilitation and Compensation Commission.
Liz's diverse career has provided opportunities to develop strengths in driving reform and modernisation, leadership, building relationships, collaboration, setting visions, providing strategic advice and policy development. It was Liz's leadership, resilience, courage and determination that saw her become the first female promoted to the senior rank of Major General in the Australian Army.
In 2010 when Liz first joined the public service as First Assistant Secretary, Client and Commemorations Division at DVA, she implemented the Anzac Centenary Board, who were responsible for laying the foundations of the Anzac Centenary National Program.
Between 2012 and 2016 she held the positions of Deputy Secretary at the Department of Immigration and Citizenship and Deputy Secretary/Chief Operating Officer at the Department of Health, leading the implementation of major cultural and behavioural reform activities.
In 2016, Liz returned to DVA to take on the role of Deputy Secretary, where Liz has been instrumental in establishing DVA's transformation program, applying her wealth of knowledge as a veteran and working with partners across Government, the private sector and the veteran community to collaboratively build the future of DVA, improving the outcomes for veterans and their families.
Liz is a passionate advocate for improving services to support and enable all veterans and their families to transition from military service to civilian life.
Liz's many talents have not gone unrecognised, being awarded a Conspicuous Service Cross in 2001, appointed a Member in the Military Division of the Order of Australia for her contributions to Army and for delivering profound organisational reform in 2011. In 2014, Liz was awarded the ACT Award for Excellence in Women's Leadership.
Liz has a Master of Arts (Strategic Studies), Bachelor of Social Science (Human Resource Development) and a Diploma in Management.
2018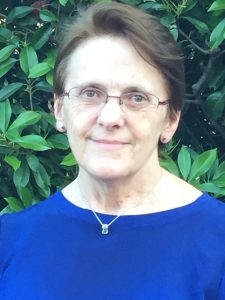 Shireane Mckinnie
Shireane is an accomplished leader in acquisition and sustainment of complex, high technology Defence systems. Her experience spans aerospace, electronics, maritime, land and explosive ordnance sectors. As a General Manager and other positions in the Defence Materiel Organisation Shireane led the acquisition and sustainment effort for significant renewal of ADF's fixed and rotary wing aircraft fleets, vehicle fleet upgrades and the modernisation of the ADF's C4ISREW and explosive ordnance capabilities.
Shireane's systems engineering insights and risk management skills have also been applied to leading Defence's support to development of the Nulka missile decoy and CEA phased array radar systems, which represent some of the biggest Australian Defence exports. Her disciplined approach to managing leading edge technology development has enabled Australia to field world-leading systems.
Shireane has a notable record in achieving major reforms, with consideration of the effects of changes on people and on business models. With the formation of the Defence Materiel Organisation in 2000, Shireane led the integration of acquisition and sustainment functions in the electronics domain. This transformative change was effective in bringing whole of life considerations to decision making. She later led the DMO's contribution to Defence's Strategic Reform Program to save $5.5billion in sustainment costs. She also led significant reforms to Defence engineering, project management and contracting practices. In periods of difficult changes, her people have shown great loyalty and buy-in to support her initiatives.
As the first female Director General Navy Engineering Services, Shireane led engineering efforts to support the replacement, expansion and modernisation of Navy's submarine and surface fleets.
In 2010, she was awarded the Public Service Medal for outstanding achievement in the field of engineering and defence acquisition. Shireane was also awarded an Honorary Fellowship of Engineers Australia in 2015, the highest membership award, for conspicuous service to the engineering profession. Shireane has also been recognised, by Engineers Australia, in the top 100 most influential engineers in Australia on four occasions. Other awards include Ross Treharne trophy for outstanding contribution to electronic warfare in Australia and Chief of Air Force Commendation for exceptional and continuous contribution to Air Force capability.
Since leaving Defence in 2015, Shireane established her own business to provide professional services to Government and industry. She is a co-opted member of the Information Telecommunications and Electronics Engineering College Board of Engineers Australia and a member of the Canberra College for Leadership and Management Committee. In those roles she is active in promoting the profile of engineers in the community, women in engineering, and STEM initiatives. Shireane is also a member of the Department of Humans Service's Audit Committee and Chairs its ICT sub-committee.
Shireane is passionate about assisting young women and men succeed in their career endeavours, particularly in the challenging Defence, security and engineering environments. She is an active mentor and role model for women.